Big Events, Inc. has been manufacturing cold-air inflatables and helium parade balloons since the 1980's. We have a huge rental inventory of cold-air and helium inflatables. Our manufacturing shop is staffed with experienced, innovative personnel. For your rental or purchase needs Big Events is the place to go.
Our reputation has been built on providing exceptional quality products and responsible service. We spend extra time on our designs and the finish art work because our customers know and expect the difference it makes. High quality means high success.
Service has always been important to us because we know that the success of each job depends upon having an inflatable perform without a flaw. Many events we do are on a rigid time schedule and having one of our supervisors on site can make everything happen on time. Some customers call us with last minute jobs and we are proud to say that our service people will always try and make it happen.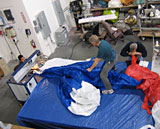 Our pricing is very competitive. From rental pricing to custom design balloons we know we have to be in the market place. We believe we offer the highest quality products at a fair competitive price.
We have been pleased to offer our services to clients all over the world. People ask us if we can deliver to their local and of course the answer is we can deliver to almost any place around the world.
click here to learn more about the construction process.
We appreciate your business. Call us with your concepts and we will do our best to make it happen. Referrals upon request.